Grizzly vs Yeti Coolers: The Showdown
An overview of these awesome Made In America Coolers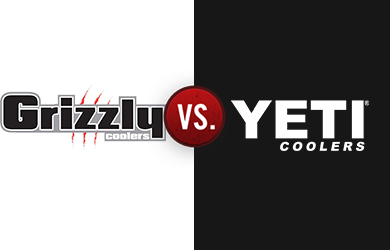 Grizzly and Yeti both make high-end rotomolded coolers that are built for serious outdoor enthusiasts who want their gear to work well and last a lifetime. We highly recommend both brands as they've both shown that they can deliver quality products that are as functional as they are durable. However, when choosing between Grizzly vs Yeti, the decision becomes much more difficult.
Grizzly has been in business over 30 years and has a lot of experience building high-end rotomolded cooling products. While perhaps not as popular of a name as Yeti, Grizzly has been dedicated to producing their products in the USA and delivering on a high standard of quality. Yeti on the other hand has only been in business for around 10 years but has taken the world by storm in delivering fantastic coolers taht their customers rave about.
Check out the latest prices for Yeti Coolers and Grizzly Coolers.
Grizzly vs Yeti Comparison Summary
After comparing Grizzly and Yeti coolers we found that both had different strengths and weaknesses.
Grizzly and Yeti Cooler Comparison
Grizzly Coolers
Yeti Coolers

Made in America with
Very good Lifetime warranty that covers most components
Cheaper than Yeti
Larger interior dimensions vs Yeti in each size category

Better resale value (due to brand recognition)
Better construction, rivets and pins instead of screws
Better fit and finish, fewer contours make it easier to clean and more portable
Grizzly coolers are well-built, american-made and come at a more affordable price versus a similarly sized Yeti. In comparison, Yeti coolers are slightly more portable, easier to clean and most importantly have better overall construction versus Grizzly. However, they do not come with a lifetime warranty. Next, we're going to take a more detailed look at these two major cooler brands.
Product Warranty: Grizzly vs Yeti
Grizzly offers a limited lifetime warranty. This "lifetime" warranty covers most manufacturer defects and the best part that it actually does cover issues with the cooler's seal and gasket, components that commonly can have problems. It's important to note that the Grizzly warranty will not cover damage if the cooler was: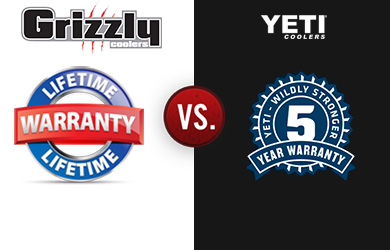 used commercially
damaged through abuse, misuse or neglect
damaged in an accident
unreasonably used or used for any purpose for which it was not intended
repaired or altered in any way from it's original configuration
damaged due to any act of nature
Also, any normal wear and tear, including dents, slight warping, delamination, scratches, discolouration, fading, nonsticking graphics or wear to skid pads is not covered under this warranty.
On the other hand, Yeti offers a very good 5 year warranty that also covers all the components of the cooler. Yeti's warranty is not lifetime though and will expire 5 years after the product was purchased. Yeti customers have reported that Yeti is very generous when it comes to repairing their coolers and they have a good track record of customer service and satisfaction.
It's pretty obvious that Grizzly has the better product warranty, but we don't think this is enough to make an informed decision.
Construction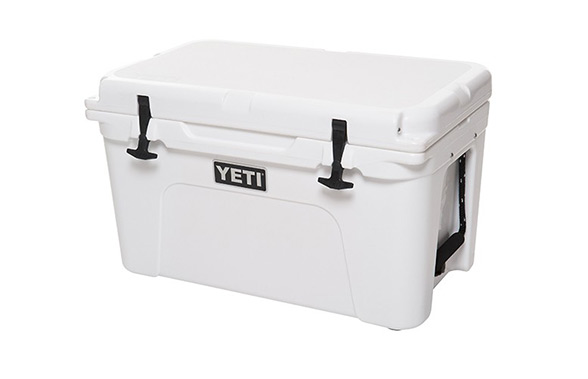 Each Grizzly cooler features a roto-molded shell, making it rigid and resistant to impact. This construction makes it extremely durable, much more durable than the average, run-of-the-mill options offered elsewhere. Grizzly coolers also feature mold-in hinges that utilize solid stainless steel pins and jumbo, in-mold handles that are considered ergo friendly.
Grizzly latch hardware is screwed in with screws which is definitely not as quality as Yeti. All Yeti latch hardware is secured with riveted pins that go through the entire frame of the cooler and are secured on the other side. This is a big difference between the two brands and is where the quality and durability differences between these two coolers starts to become apparent. Those concerned with the durability of the latching system should be aware of this.
Yeti coolers also offer a roto-molded shell that is extremely durable. But instead of the many contours and edges that the Grizzly has, the Yeti coolers have smoother curves and less lines making them easier to clean. Lastly, Yeti coolers have compact molded handles that don't portrude out from the sides of the cooler like Grizzly does. This lets you save some space when packing your cooler into tight spaces. It's a small feature but it could make a big difference to some.
It's clear that in the category of Construction, the winner is Yeti.
Insulation
Both Yeti and Grizzly offer superior insulation over pretty much any other brand of cooler out there. They both pressure inject foam insulation into their rotomolded cooler shells allowing their coolers to hold an internal temperature extremely well.
Grizzly uses eco-mate foam in addition to a thick rubber gasket and heaviliy insulated rigid lid to provide it's superior insulation. Yeti on the other hand, pressure injects it's own proprietary foam to achieve a very similar level of insulation. Many tests have been done to see which cooler performs best, and in the end, it's inconclusive. Both provide stellar insulation.
In this category, Yeti and Grizzly coolers are a draw.
Durability
All Grizzly Coolers are designed with the toughest and highest quality of materials available on the market today. They are put through endless tests to help ensure they provide maximum durability. The brand has received Bear Proof Certification, which means they have stood up to a bear attack for over 60 minutes. In addition to this testing, it was found that even after the bear attack, the cooler was able to retain its look, shape, and function, even with the most extreme conditions.
Yeti also has a very high standard for durability. Using a very similar rotomolding process and materials as Grizzly, Yeti prides itself on the durability of it's coolers. While the lids, hinges, and cooler base of both Yeti and Grizzly are extremely durable, the fact that Yet uses a locking pin system to hold on the latches and other hardware gives it the upper hand in this category. The screws that hold the latches on Grizzly coolers can eventually become loose and even worse the threads can pull out. Yeti's do not have this problem.
In this category, Yeti coolers are superior to Grizzly.
Different Models and Sizing between Grizzly and Yeti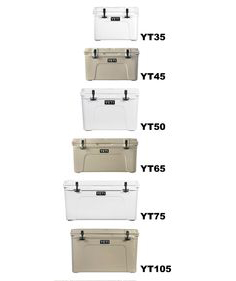 Just to make things extra confusing, the product names of different Yeti and Grizzly coolers are not equivalent. For example, a Grizzly 40 cooler has an actual internal capacity of 47 quarts while the Yeti Tundra 45 has an actual capacity of about 32 quarts. It is very confusing to figure out how to to compare the prices and sizes of specific coolers. Check out our cooler sizes comparison chart to see what the real capacities of Grizzly and Yeti coolers actually are.
In general, Grizzly labels their coolers more accurately and delivers capacities that are more in line with what it says on the package. In the category, the winner is Grizzly.
Grizzly Vs Yeti: The Bottom Line
Grizzly coolers should not be dismissed. This cooler brand is a favorite for fisherman, hunters and other outdoor enthusiasts because they deliver a quality cooler that is assembled in America with high-end materials. However, Yeti coolers have a few noticeable features that Grizzly's do not and overall they provide a better, more durable and well-made cooler versus Grizzly. These features do however come at a cost. Yeti's are routinely priced at $50 to $100 more than comparable Grizzly coolers. So while we think that Yeti makes a better cooler than Grizzly, it's important to do your homework and consider if it's worth to spend the extra money on a Yeti cooler. If you are really looking for a Buy it For Life (BIFL) cooler, we think Yeti is a better option than Grizzly.