Grizzly 40 Cooler Review
cooler Review: 4.3 out of 5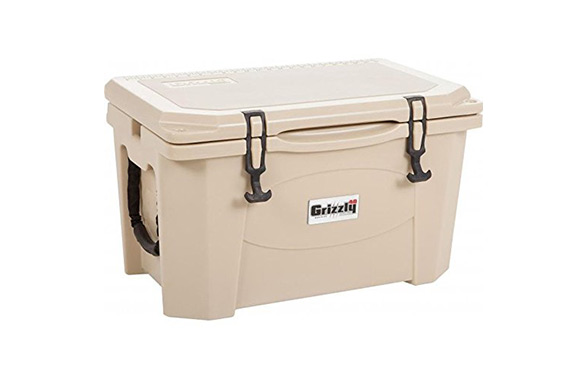 If you have been looking for a cooler that is literally stronger than a grizzly bear, than your search is over. Grizzly Coolers is famous for producing the most rugged, durable, yet sharp looking units know to man or beast. The "Made In America" stamp means something special to this company. Grizzly prides itself on employing American workers to manufacture superior quality coolers that are built with the highest-grade materials.
The company specializes in supplying coolers to people that love the great outdoors. If you enjoy camping, hunting, fishing, taking part in action adventures, or professional tailgating, Grizzly offers a line of coolers that are packed full of practical features, and they are made to last.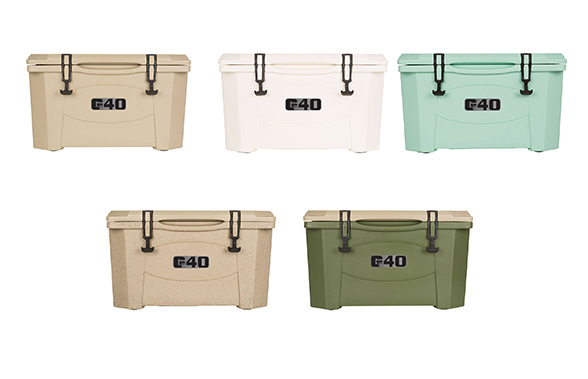 The Grizzly 40 cooler is certainly no exception. This 40-quart chest is as strong as its namesake. It is even certified to be bear proof, meaning it was able to stay sealed after being attacked and mauled by a group of bears. If you would like to keep your beer secure from bears, than the Grizzly 40 cooler is the perfect device. Food will stay fresher for longer periods of time, and other valuable supplies are sure to be protected even under the most intense situations, and harsh conditions.
Capacity and Dimensions
The Grizzly 40cooler exterior measurements are 25.5 inches wide by 15.5 inches high, and 16 inches deep. The interior is 18 inches wide by 12 inches high, and 11 inches deep. This cooler holds 40 quarts, and weighs in at 22 pounds when empty.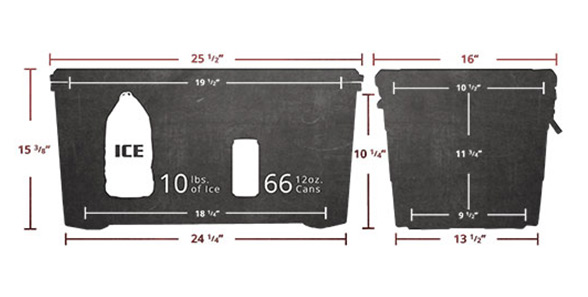 Durability
How many other coolers can make the claim that they can be dropped off a cliff without sustaining any major damage? All Grizzly 40 coolers are put through the most grueling tests both in the lab and out in the field. The company even went as far as placing their smallest cooler under the wheels and bucket of an 11,000-pound tractor.
Would you like to take a guess as to what happened? Nothing at all, the cooler was completely intact. One customer recently made the statement that if there were ever a nuclear war, he would survive by climbing inside his Grizzly cooler.
Insulation
The Grizzly 40 cooler is portable enough to take with you on all of your exciting voyages. Easily carry it while hiking in the mountains, hunting your preferred wild animals, camping in the deep woods, or tailgating at your favorite sporting events. The Grizzly 40 is compact enough to fit on the smallest fishing boats, and is strong enough to be used as an extra seat.
It is also large enough to hold a boatload of items that will keep you going for longer periods of time. For example, this workhorse has the capacity to keep ice cold for a full six plus days. If you are bringing it to an area that does not have easy access to food or drinks, this feature comes in extremely handy. You do not need to worry about re-supplying your ice source for close to a week. This fact can prove to be far more than just a nice convenience; it may help to save your life. There have been countless cases of outdoor adventurers getting lost. Knowing that you have a reliable food source may just keep you calm and composed enough to find your way out.
Drain
The Grizzly 40 cooler encompasses many other great features for practicality and convenience. There is not a person on the planet that enjoys tipping over a cooler to get rid of that nasty melted ice. It is a dirty job because the sludge gets everywhere. The Grizzly 40 has the perfect solution to that annoying problem. This cooler contains a two-inch drain plug, and full-length drain channels that quickly and efficiently depletes all liquids when pulled. This helpful characteristic also helps it extremely easy to clean the cooler.
Lid Hinge
Have you ever used a cooler where the lid would not stay open on its own? Although it may not sound like a large problem, cooler lids that do not function properly can be tremendously annoying and dangerous for little children. That will never happen with the Grizzly 40 because it has a molded in hinge and a stainless steel pin. The no slip non-marking rubber feet not only provide better stability on uneven surfaces, they will not mark up floors when used or stored inside. The BearClaw™ Latches provide an incredibly secure fit and do not need any hardware.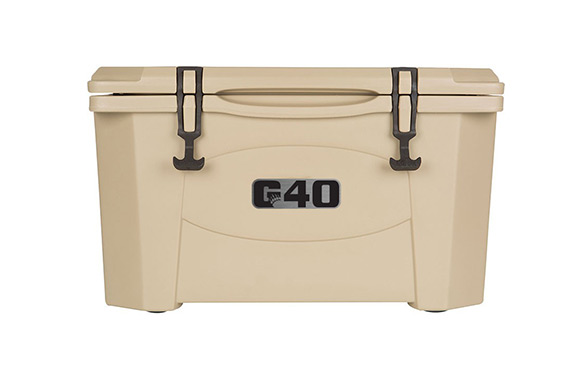 Quality Rubber Handles
Never lose your grip when carrying the Grizzly 40. It has nylon sleeved rubber handles that are so tough they will never break off. To make the handles even stronger, they are molded into the cooler. The two-inch tie down slots ensure that your cooler will stay safe and secure even when being bounced around in the harshest environments. There is even a twenty-two inch ruler on the lid to measure your trophies when hunting and fishing. Your food will stay fresh, and dry. The Grizzly 40 cooler seals perfectly, due to the high quality rubber gaskets. You do not need to purchase a separate dry goods tray because this cooler includes one.
Conclusion
To recap, the Grizzly 40 cooler is made in the United States. It is designed with RotoTough rotationally molded construction for superior strength and durability. Your supplies will stay colder longer due to the environmentally friendly pressure injected insulation. If you happen to encounter any issues, the 40G includes a lifetime warranty, and it is certified to be bear resistant. There is not a better 40- quart cooler on the market. Pick up your Grizzly 40G cooler today.
See Prices for the Grizzly 40
Click Here to see more reviews of the Grizzly 40