Yeti Tundra 50 Cooler Review
cooler Review: 4.4 out of 5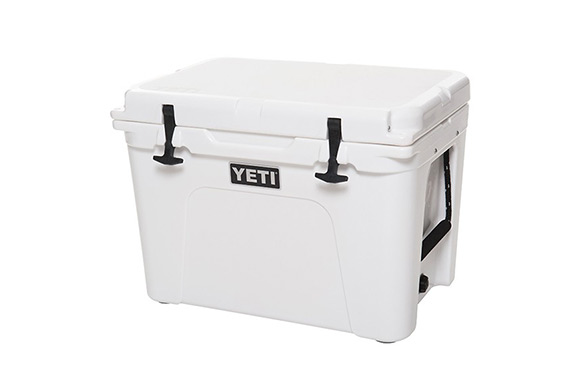 Considered by outdoor enthusiasts, backyard barbequers, and tailgaters to be the go-to manufacturer for the highest quality coolers, the YETI Tundra 50 cooler continues this tradition. The following provides an in-depth review of everything this cooler has to offer, as well as any potential downsides.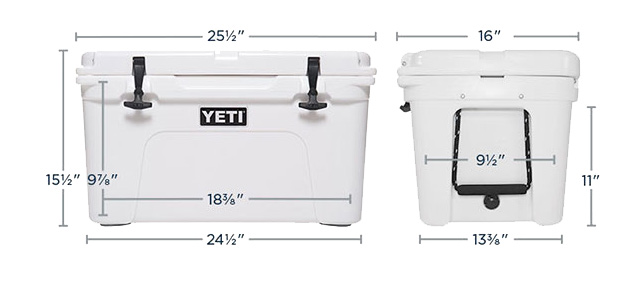 Size and Color
The YETI Tundra 50 measures 24 1/4" in length, 17 1/2" in width, 18 1/8" in height, and weighs approximately 30 pounds when empty, yet is so compact that it doesn't take up too much space. It can easily hold up to 47 pounds of ice or 32 beverage cans with a 2:1 ice to drink ratio. It also includes a dry goods rack, which can hold up to 25 pounds of food and drinks that you need to keep ice cold without getting soggy.
The Tundra 50 is available in white, ice blue, and desert tan and features the YETI logo directly on the front.It is compatible with both cold and dry ice.
Although the company does not divulge how much weight it can hold, they do advertise that it can be used a seat or casting platform when fishing.
Many Outstanding Features
Plenty of thought went into constructing the YETI Tundra 50, which is obvious when you look at all the features it offers. Created using roto-molded polyethylene construction, the Tundra 50 is essentially indestructible and is resistant to both spray from salt water and UV lights. Whether you plan to use it for regular camping trips, deep sea fishing, a daily construction job, or anything else you can think of, the Tundra 50 will withstand anything you can subject it to.
Bearfoot™ non-slip feet are included to firmly hold the cooler in place and keep it from slipping around the boat and truck. As an added bonus, it has built-in tie-down slots that also let you firmly tie it in place. The YETI T-Rex lid latches ensure the lid stays firmly closed. Fortunately, it also has self-stopping hinges that all you to securely prop the lid open when needed.
The Tundra 50 also includes a No Sweat™ design that prevents condensation from forming on the outside and causing puddles or even worse, getting all over your clothes when you are moving it. It features Permafrost™ Insulation, which is made up of 2 inches of polyurethane foam in both the lid and walls and a freezer quality sealing gasket that ensures your ice lasts for hours, if not days. If your goal is to keep your food and drinks as cold as possible, the YETI Tundra 50 is the cooler to do it.
Finally, the gasketed Vortex™ Drain System that simply screws in makes it easy to drain at the end of the day. To ensure you don't lose the plug, it is designed to completely drain without removing the plug.
Potential Cons
As with anything, there are always a few downfalls. Far and away, the biggest negative associated with the YETI Tundra 50 is its weight. Although it does have Doublehaul™ Handles, which includes military-grade nylon rope with a textured grip, it is almost impossible for one person to lift the cooler alone when it is full of foods and drinks. To make it a bit worse, the sticky feet (which are perfect for holding it in place) also make it impossible to easily slide it in and out of the back of a truck. You can, however, purchase YETI Tundra Sliding Feet for $19.99, which makes it easier to slide on hard surfaces.
The only other real drawback of the YETI Tundra 50 is its price. Listed for around $379.99, it is expensive, as far as coolers go. However, it is durable and can last for years, unlike some cheaper coolers which have to be replaced every year or so. As a result, it may be well worth the cost, particularly when you consider the 5 year YETI warranty.
Final Thoughts
Overall, the YETI Tundra 50 is definitely one of the best coolers currently available on the market. Not only does it look great, but it can withstand anything you can throw at it (including grizzly bears when you are out hunting), all while keeping your ice frozen for hours on end. Plus, it can easily accommodate all the food and drinks you need for a weekend camping trip.
If you are searching you a cooler that can hold plenty and last for years, the YETI Tundra 50 is worth looking into.
See Prices for the Yeti Tundra 50
Click Here to see more reviews of the Yeti Tundra 50