Corona Cooler Review
cooler Review: 3.5 out of 5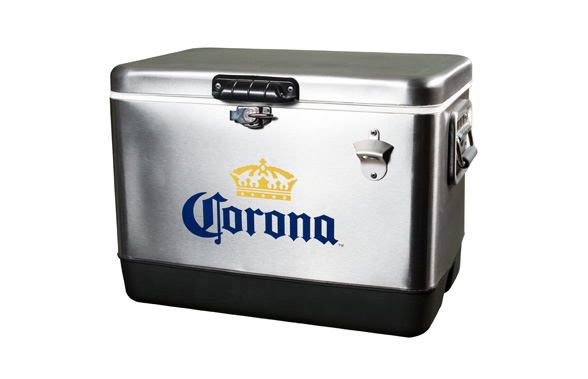 The stainless steel Corona ice-chest is a rugged, sturdy, and attractive cooler. Constructed from high-quality stainless steel and sealed shut with a solid latch, this cooler can store ice for up to 3 days, which is far longer than a generic cooler.
Measuring 23.5" x 16.75" x 16.25" with a capacity of 54 quarts, this cooler can hold approximately 85 cans of beer, making it an ideal receptacle for backyard parties, fishing trips, boating, hunting, and camping trips. Featuring a two-color Corona logo screen-printed on the front, the cooler is designed with beer-lovers in mind. It even has an opener built into the right side.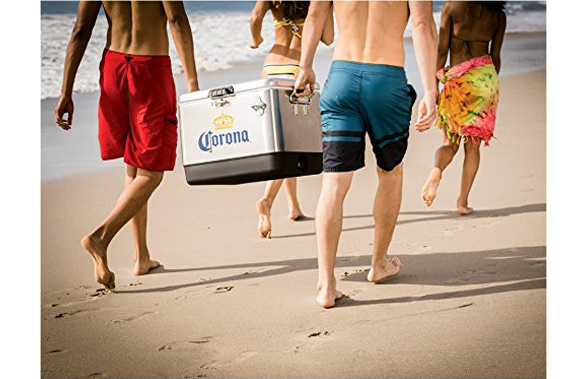 Pros
A convenient, rust-resistant drainage port makes the Corona cooler easy to drain by simply tilting it allowing any excess water to flow out of the base. The base and interior liner are easy to clean, and the exterior can be wiped down without causing lasting streaking to the stainless steel shell.
For beer-lovers, the Corona logo adds a flair of color, guaranteed to liven up a backyard party atmosphere. The stainless steel shell brings a touch of class, making the Corona cooler a more attractive "conversation piece" than your typical, run-of-the-mill Styrofoam box. Naturally, when someone sees this cooler sitting on your tailgate, they are going to know that you are a person that likes to have fun.
In terms of construction, the Corona cooler is built by Coleman, which is a well-regarded brand for coolers and other camping and outdoors equipment.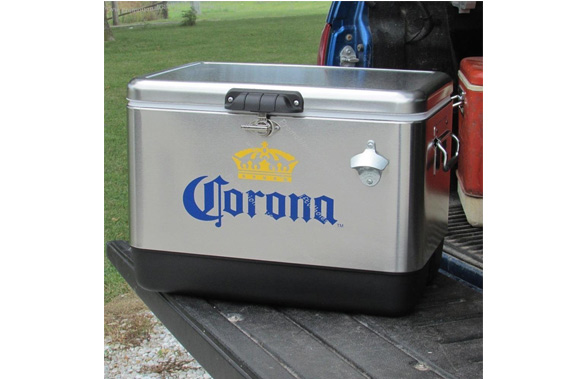 It is a sturdy, well-insulated cooler that lives up to the task of keeping a lot of beer very cold for an impressive period of time. The solid latch seal is designed to prevent ice from melting for up to 3 days, even in temperatures as high as 93 degrees. This makes it perfect for those long summer days of hanging out in the backyard with a group of friends.
Cons
While the Corona cooler has some great features, it falls short in a few areas. One major downside is that this cooler can be quite heavy, especially when it's full of beer, and it might require two people to lift. Getting it onto a truck bed is a challenge due to the weight. The side-handles are also too narrow, and they can be a tight squeeze for someone with large hands. The grip on the hinged handles is also uncomfortable and digs into your hands. A built-in, ridged, easy-grip handle would have been a better design option for a cooler this heavy.
Another potentially prohibitive factor for this cooler is the price, which is around $200. There are several comparable alternatives that are priced lower, such as the Coleman 54-quart Steel Cooler or the Igloo Stainless Steel Cooler, for example.
The built-in bottle opener is a great feature, but the design could have been improved by adding a cup below it to collect the bottle caps. Once the caps are off, discarding them becomes another issue, and having a built-in place to stow them would prevent people from throwing them into the yard, littering, or leaving them in various unsightly places.
Bottom Line
The Corona ice chest is a good cooler for beer-lovers. It looks great in a backyard, full of ice-cold beer. Overall, it is a well-made and attractive option for a beer cooler. The stainless steel exterior and colorful Corona logo add an aesthetic appeal to this cooler that could certainly make it a worthwhile investment for the right person. While this is probably not the best cooler for a serious outdoorsman, it is an excellent choice for tailgating, short camping trips, and backyard parties.
See Prices for the Corona Cooler
Click Here to see more reviews of the Corona Cooler