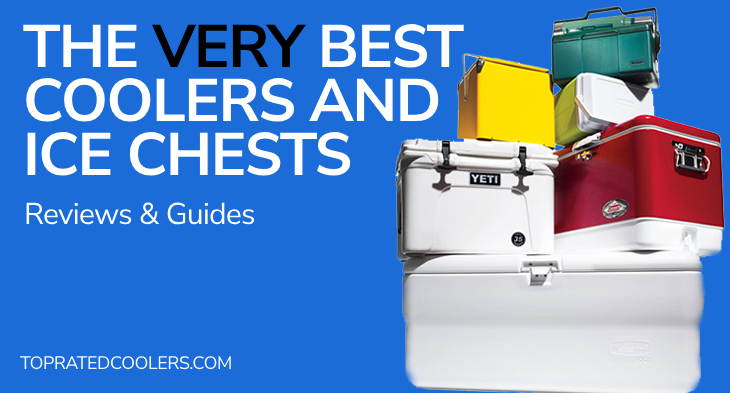 In need of a cooler for vacation, camping or out on the boat? If so, there are a number of cut-rate coolers offered at the local big box store. These can often be purchased for under $25; however, the quality, durability and other features leave quite a bit to be desired.
At this point, purchasing a premium cooler, such as a Yeti, Pelican or Grizzly, offers a number of benefits. While this upfront cost may be more, the features and durability are well-worth the initial investment. When you are ready to purchase premium coolers, considering all the details will help you find the right one.
Cooler Insulation
Insulation in Yeti, Grizzly and other premium coolers is superior, tough and durable. These outstanding thermal properties are the result of innovative technology. Most of these coolers feature more than two inches of polyurethane insulation in the lid and sides.
In addition to this superior insulation, there have freezer quality sealing gaskets and a seamless one-piece construction that makes the functionality of these premium coolers unmatched on the market.
Taking the time to follow best practices will also help these premium coolers' insulation live up to its full potential. If you store the cooler in warm places, then a large amount of your ice will be wasted simply trying to cool the cooler. Pre-loading the cooler several hours before needing it will provide better results. Also, ice can be bought at different temperatures. If ice is warm (around 32 degrees F) or it is dripping or wet, it will not last very long. Ice that is colder than the freezing point will be dry and last much longer.
While insulation in premium coolers is superior, air is the enemy of any cooler, regardless of the materials used. Larger areas of air in the cooler will quicken the melting of the ice. If you don't have more ice, try to fill the space with newspaper or towels. Also, don't empty out the cold water as the ice melts. It will be almost as cold as the ice in the cooler and will help to provide additional insulation for the rest of the ice.
Dimensions, Capacity and Weight
When purchasing premium coolers, it is essential to narrow down the options regarding the size needed. Size is directly related to the amount of time the ice and cold inside will last and how portable the cooler is. Take time to consider how the cooler will be transported. For example, if it has to be carried from place to place then a smaller is going to be the best option.
Check out our Cooler Size and Capacity Chart for an easy to access guide to cooler sizes and actual capacities.
Some general guidelines for coolers include: a smaller cooler that is less than 25 quarts in capacity will only be large enough for one person's food for one night away from home. Units between 25 and 45 quarts will hold one person's food and drinks for a period of four days, or a couples items for a weekend.
The most popular size is 45 to 70 quarts and is considered the 'sweet spot' in terms of capacity. Even when full, this size cooler can be easily moved and can hold all that a family of four to six may need for a long weekend away. When premium insulation is present, which it is with the Yeti, Grizzly or Pelican brand of coolers, it can keep food good for two for a period of a week.
Cooler Durability
The durability of the cooler is also an important factor. The exterior of the cooler should be able to stand up to normal wear and tear and if excessive conditions are going to be present, this has to be considered to find the right option. Premium coolers are designed specifically to withstand issues such as tossing, prying, scratching, smashing and biting to ensure they can withstand any conditions that they may come in contact with.
The key to the strength and durability of these coolers is their one-piece design. This means the only part that is not completely attached to other parts is the lid; however, the hinges are created from top quality materials to ensure they do not break or give in to pressure or other types of force.
Regardless of what you put these coolers through, they will be able to handle the abuse. This is because they are designed with premium materials and quality design to ensure they last.
Extra Features
Premium coolers are also offered with a number of new and beneficial features to make their use easier and more in tune with the user's needs. One feature to expect is drain plugs, which allow you to easily drain any melted water from the cooler.
Another feature that is appealing is the cooler's folding handles. These retract and become flush with the cooler when not needed for transport or other use. This makes it easy to fit the cooler in smaller areas for storage. Locking mechanisms also help to keep the 'cold' inside, which will help the ice last longer, keeping food and drinks colder for a longer period of time.
Aesthetic options are also available. High end coolers have now taken the design of their units to the next level to include custom color options that are not offered with the discount coolers found at big box stores. This allows you to customize the look of the cooler. After all, if you are going to invest in a high end cooler, you need to get one that represents your style and personality.
The Bottom Line
There is always the option to purchase a cut-rate cooler that offers minimal features and only keeps ice, food and drinks cold for a short period of time. However, if you want a cooler that really makes a difference, is able to withstand whatever you put it through and keeps things colder and/or frozen longer, then a premium cooler, such as the ones offered by Yeti, Pelican and Grizzly, is what you need. Take some time to figure out what features and accessories are most important to you to find the best cooler for your outing or excursion needs.