Yeti Tundra 45 Cooler Review
cooler Review: 4.4 out of 5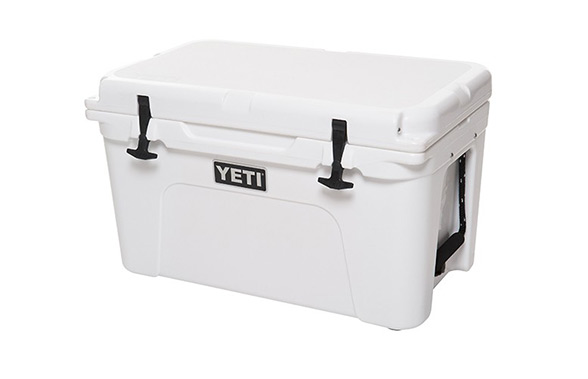 Yeti is a world-renowned brand for coolers due to the fact that it continues to make high quality, super durable coolers that insulate extremely well and stand up to years (even decades) of abuse. The Yeti Tundra 45 quart is really a perfect size and it's no wonder why this size is by far the most popular of all coolers in the Tundra product lineup. The Tundra 45 is small enough to handle by yourself even when fully loaded up, but it's big enough to provide an impressive amount of cooler space for any outing.
Yeti can make things confusing when it comes to actual capacity. The Yeti Tundra 45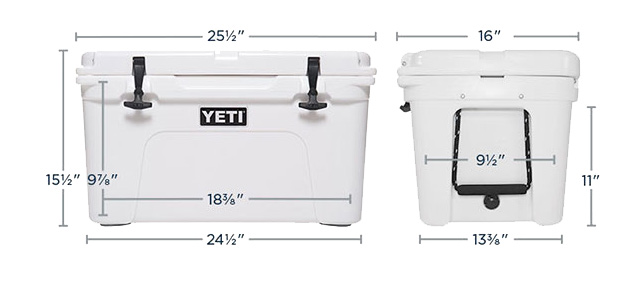 Dimensions, Capacity, and Weight
The Yeti Tundra 45 has an impressive 26-can capacity (Assuming a 2 to 1 ice to cans ratio) and it holds 35 pounds of ice if the container is completely filled with ice. The cooler's dimensions are 25 1/2 inches long by 16 inches wide by 15 1/2 inches tall. When completely empty, the Tundra 45 weighs 23 pounds.
These dimensions make the Yeti Tundra 45 a very maneuverable cooler. The heavy-duty rubber handles made with military-grade nylon rope make it so a single person can easily carry this cooler. I would say that the Tundra 45 is the largest Yeti cooler that is still easy for a single person to maneuver.
Insulation
What good is a cooler if it can't keep things cold, right? While the Yeti Tundra is pretty to look at and built with high-quality materials, the insulation of this cooler is where it really shines. The Yeti Tundra 45 features what Yeti calls Permafrost Insulation.
This means a full two inches of polyurethane pressure-injected insulation throughout the cooler body and a full three inches in the lid where heavy insulation is most essential. The difference with the Yeti insulation is that it's pressure injected, which makes the insulation much more dense compared to other brands.
The Interlock lid system means that the lid interlocks with the cooler body with a full-frame freezer-quality gasket. Rather than just sitting on top of the body like other cheaper coolers, the interlocking lid seals to the cooler body to bring any air exchange between the freezer and the surrounding air to an absolute minimum.
Durability
Just like other high-end coolers, the Yeti Tundra 45 is built with rotomolded construction, a process that involves injecting plastic into a hollow mold and rotating it to create large one-piece parts. This process allows the Yeti Tundra 45 to be made up of really just two components: the cooler bottom and lid.
Both the cooler bottom and lid of the Yeti Tundra 45 are made of polyethylene, which at the thickness on the Tundra 45, is a nearly indestructible UV-resistant material. It's so durable that Yeti has even certified this cooler as a bear-proof container when padlocks are used with it. The interagency Grizzly Bear Committee certified the Yeti Tundra 45 as a bear-resistant food container when used with two padlocks on the front corners of the cooler. This is a ridiculously difficult achievement that is usually only reserved for thick steel containers.
The Yeti Tundra 45 also features durable rubber T-latches to keep the lid closed. These latches are made of thick, heavy-duty rubber that even bears have a hard time biting through.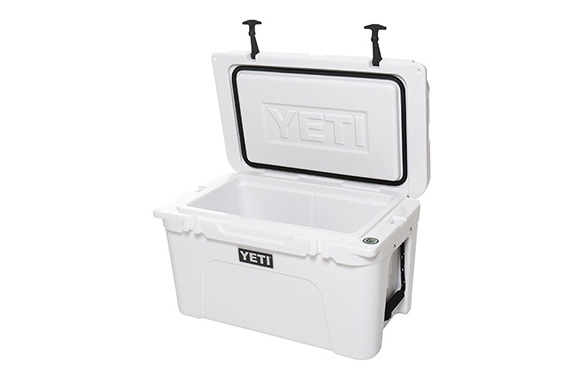 People have even gone so far as to throw a full Yeti Tundra 45 out of helicopters, off mountains and down waterfalls to show how extremely durable this cooler is. It's a tremendously durable cooler and for most people this is a BIFL (buy it for life) purchase. You may not ever need to buy another cooler in your lifetime after purchasing a Yeti.
Extra Features
In addition to impressive insulation and extreme durability, the Yeti Tundra 45 offers some nice extra features that provide added convenience to this cooler. The No Sweat Design keeps the cooler dry on the outside and does not attract moisture in hot environments.
The cooler also comes with non-slip, non-marking feet that keep the cooler steady and prevent sliding. The Tundra 45 is often used as a casting platform or place to stand due to its stability. There are also built-in tie down slots on each side of the Tundra 45 if you are wanting to keep it even more stable.
The Tundra 45 has a drain plug with a gasket that allows you to drain it easily. It also comes with a dry goods basket that will keep sandwiches and other foods dry above the ice.
Conclusion
The Yeti Tundra 45 cooler is one of the most popular coolers because it does what any cooler should: keep things cold. The difference is that the Yeti Tundra 45 does it extremely well. It's portable and convenient enough to be carried on almost any adventure whether it's on the ocean or at the campgrounds and it is built with the most rugged construction. This is definitely a BIFL (Buy It For Life) cooler.
See Prices for the Yeti Tundra 45
Click Here to see more reviews of the Yeti Tundra 45