Yeti Tundra 35 Cooler Review
cooler Review: 4.2 out of 5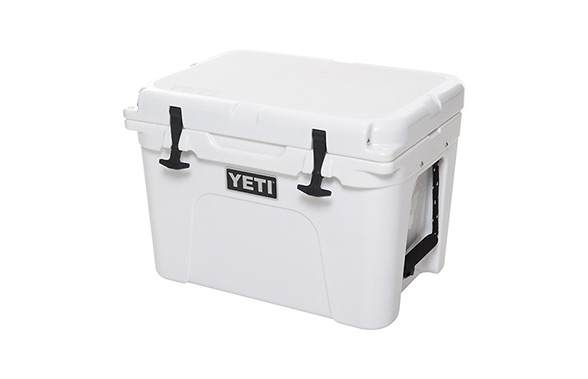 We all know that outdoor adventures can put a lot of pressure on equipment we travel with. That's why often times the gear you bring will fail on you. However, if your gear is specifically built for those who are hard on their stuff, the chances of this happening becomes minimal, and this applies to the Yeti Tundra 35 cooler.
Keeping your food and drinks cold for a longer period of time is essential when going out for a summer trip. You generally want to enjoy a cold beer while fishing, or preserve your meat for later consumption – if you plan to treat yourself to a barbecue experience once you reach your destination. But no matter your destination or where you play, your food must be fresh, and that's the mission that keeps powering the Yeti Tundra 35 cooler.
Overview
The Yeti Tundra 35 is a small, portable cooler that can accommodate 20 cans and a substantial amount of food. It's built to withstand pressure, preserve food and drink, and keep you happy throughout your trip – at least where your stomach is concerned. The Tundra 35 is anything but ordinary.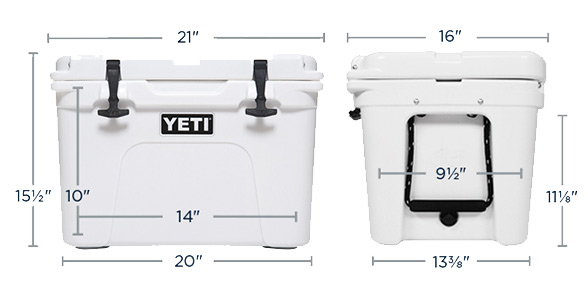 The Yeti Tundra 35 can hold 20 cans and plenty of ice. This is approximately 28 quart capacity which is also designed to accommodate long-neck bottles. The cooler is 16 inches wide by 21 inches long by 15 1/2 inches tall. This is unfortunate that a supposed 35 quart cooler only holds about 28 quarts.
Important Features
It is important to note that consumers have rated it over 4 stars since they begun buying it. These ratings are solely due to the features that come with the Tundra 35 cooler.
With roto-molded polyethylene construction this cooler has the same construction process and material used in the manufacturing of whitewater kayaks. This ensures that the cooler will stand impact at all time, thereby not compromising its longevity. It has thick walls walls built with PermaFrost insulation. The PermaFrost insulation is injected with pressure, and this ensures that the inside temperature of the Tundra 35 cooler isn't influenced by outside temperature.
Yeti coolers are specifically designed to withstand extremely low temperatures. Furthermore, they are always compatible with dry ice. Dry ice is preferred because it offers 3X more cooling power than standard ice.
High Quality Lid
It doesn't just shut. Instead, it seals completely, thanks to the ability of the freezer-quality gasket which prevents air from moving back and forth. The rubber T-latches are durable, and will comfortably sit on the molded latch keepers to ensure the lid is always sealed tight.
The cooler's hinge is constructed from a rustproof aluminum rod that is made to securely hold the body and lid together for a tight fit. Also, hinge stops are molded onto the lid to preserve and also prevent them from breaking.
Grizzly Bear Resistant
The Yeti Tundra 35 is certified as bear-resistant food container meaing that it can withstand the strength of an adult Grizzly. It was certified by the Inter-agency Grizzly Bear Committee as the ultimate food container when used in conjunction with a padlock on the front corners. However, padlocks are sold separately.
Ease of carrying
It has handles on both ends so that two users can comfortably lift and carry it when fully loaded. The grips are manufactured using marine-grade nylon rope, and this is proof that the components are structurally sound.
On the other hand, you can use the integrated recessed handles when the carrying is being done by one person.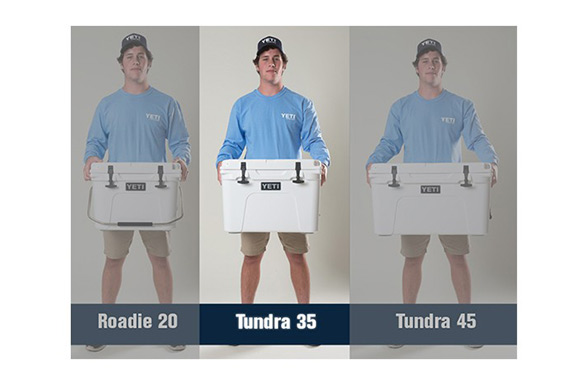 Extras
Surprisingly, the Yeti Tundra 35 comes with a dry food rack to help keep your sandwich from getting soggy in the ice. Another nice extra is that this cooler has non-marking rubber feet placed at the bottom of the cooler to hold it in place when positioned on a boat deck or other slippery surface.
Possible Downsides
Of course every product, regardless of how good it is, will suffer some drawbacks. So even though the Tundra 35 cooler is good for its features and how it serves users, for some its price may just be too high. When compared to brands like Pelican and Grizzly, it can seem on the expensive side. However, these Yeti is considered the premium brand for coolers in this size and so it makes sense that this product commands a premium price.
Then there are others who say they would love to upgrade someday so they could get a bigger cooler which would accommodate their food and drinks. If Yeti could come up with a bigger version of the Tundra 35 cooler, it could do them a great deal of favor.
Conclusion
It's for everyone who loves camping and doesn't want to keep investing in portable coolers every time. Though this product comes with a steep price tag, the fact remains that getting it is still worthwhile since it will save you money while giving you good service in the long run. The Yeti Tundra 35 is a portable, high-quality cooler that will last a lifetime.
See Prices for the Yeti Tundra 35
Click Here to see more reviews of the Yeti Tundra 35