Pelican 20 Qt Cooler Review
cooler Review: 4.3 out of 5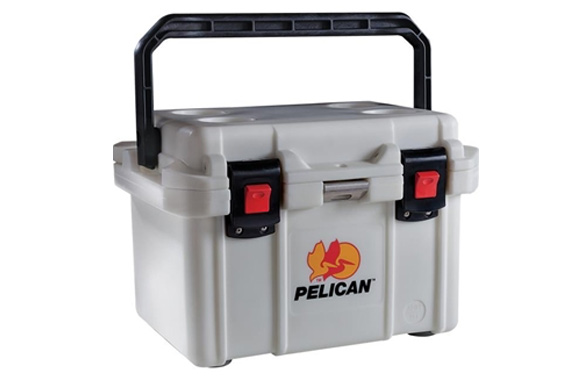 The Pelican brand has a great reputation for producing coolers that excel when it comes to ice retention. This one can keep people's ice going for around seven days at least. Some customers reported that their ice supplies lasted for even longer than that, and they were able to hold onto almost everything in the cooler for longer. People can expect everything in the cooler to be safe for around ten days.
The ice retention capabilities are largely a function of the fact that the ice chest is equipped with two inches of polyurethane insulation. As such, it is going to be able to maintain almost all temperatures more effectively than something with thinner insulation.
The seal for the cooler is also very effective, and holds the cooler closed very tightly. Even then, it is possible to strap down the cooler. It's set up to make that part of the process that much easier. People aren't going to have to worry about the cooler falling open mistakenly.
Incidentally, it should be noted that campers should be fine with taking this ice chest with them on camping trips, even if they're worried about bears. The seal and some of the ties were partly designed with bears in mind. This cooler isn't going to attract them. The cooler has received certification from the Interagency Grizzly Bear Committee, which should put the minds of campers at ease.
Special Features
Plenty of people want a cooler that is really just a cooler, but there are plenty of coolers that are equipped with additional features, like this one. The Pelican 20 Qt cooler has a bottle opener built-in. People aren't going to have to remember to pack an additional bottle opener, and they're always going to be able to have one on hand when they use this product. The bottle opener should also always work well for customers. The manufacturers of this device were good at anticipating the needs of potential customers and serving them well.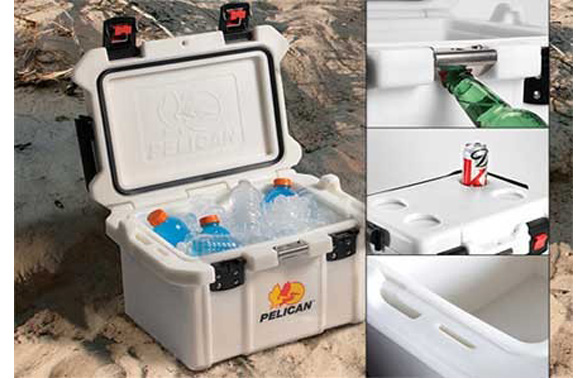 The lid of this cooler also has cup holders that have been integrated right into the lid itself. People aren't going to have to bring any, and they'll always have a great place to put their drinks during a party or a barbecue. The cup holders could technically be used to fulfill other functions as well, making this a very versatile cooler for people to try.
Capacity and Portability
At twenty quarts, this cooler has a fairly impressive capacity. There are larger coolers on the market, but this one also isn't going to be as heavy as many of them, which can help compensate for that. Not everyone is going to need a cooler that has a capacity that is larger than that. Portability is going to be more important for a lot of customers, and this cooler is definitely better in terms of overall portability than many of the others that are on the market today.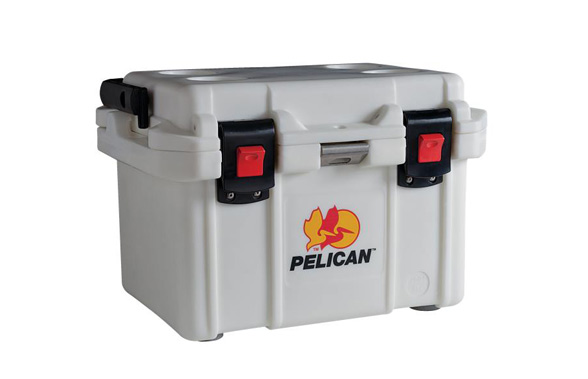 This cooler is particularly good when it comes to portability because of the fact that it is equipped with two different sets of handles. People aren't going to drop this cooler, since they'll have plenty of things to grab and plenty of support when they're carrying it. The weight of the cooler will be easily distributed among the handles. It doesn't make itself inconvenient to use by having a capacity that is too large or by having no handles, so people practically have to hug it in order to carry it around with them from place to place.
Cleaning
The Pelican 20Qt is partly made from corrosion-resistant stainless steel. As such, it is going to last for a lot longer than many of the other coolers on the market today. It's also going to be easier to clean. Steel has a nice slick surface, and the people who are using this cooler don't have to worry about it rusting through thanks to the repeated contact with moist items, such as cans covered in moisture or ice.
Otherwise, the cooler is made from wonderfully non-porous plastic, and any contamination should be very easy to clean. It should make the process of getting back from a camping trip or a Fourth of July barbecue that much easier for everyone involved.
See Prices for the Pelican 20 Qt
Click Here to see more reviews of the Pelican 20 Qt