Pelican 35 Qt Cooler Review
cooler Review: 4.5 out of 5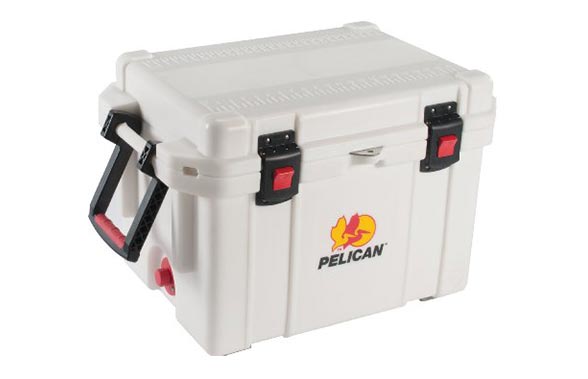 The sturdy Pelican 35 qt cooler offers good ice retention and comes in at a very convenient size that is easy enough to carry by one person but still has the space for a sufficient amount of ice. It's made in the U.S.A. and is guaranteed for life.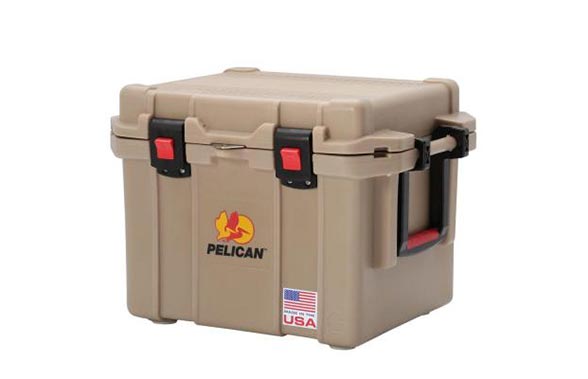 Customers find that the Pelican 35 qt cooler performs remarkably well due to the quality of its materials. It's remarkably rugged which makes it perfect for camping, tailgating, picnicking, or just using in the backyard for holding beer and sodas at a barbecue.
The Pelican 35 Qt cooler measures 15.75 inches (40cm) long by 12 inches (30.5cm) wide by 11.5 inches (29.2 cm) deep. Its interior cubic volume is 1.26 cubic feet or around 37 quarts. Unlike the Yeti Tundra 35, this 35 quart cooler actually holds more (not less) than 35 quarts. Due the Yeti's strange sizing scheme the Pelican 35 Qt cooler holds about as much as the Yeti Tundra 45. See more size comparisons with our cooler sizes comparison chart.
Empty, the Pelican 35 Qt weighs 35.62 kg (32.16 pounds). And, in spite of the fact that the Pelican brand is somewhat of a newbie in the field of coolers, they've been doing their homework. The pelican 35 qt cooler tie-downs that are built-in, hardware crafted of stainless steel, as well as an extremely well-built sturdy lock make this roto-molded cooler a hit with campers and tailgaters everywhere. Skid-proof feet, well-designed handles plus a lifetime warranty round out the desirable features of the pelican 35 qt cooler.
Pelican 35 Qt Cooler Pros
The Pelican 35 qt cooler has a wide range of pros to its credit. Perhaps the first and most impressive is the fact that it offers up to ten days of ice retention. This is a major positive since many coolers won't hold up to even one day of frozen ice, let alone ten. The second most important pro is the lifetime guarantee for obvious reasons.
Another great thing about Pelican is that they have excellent customer service. Consumers have been raving about how friendly and efficient their customer service is. One even said that they offered him a free part without him even having to ask for it when he called in with a question about a latch on his pelican 35 qt cooler. Now, that's pretty extraordinary.
Other positives include a dual handle system with hinged and molded-in handles, press and pull latches, a locking switch that is also molded in with a stainless steel plate and stainless steel hardware that resists corrosion. Add to these pros two-inch insulation, a freezer-grade gasket, non-marking and non-skid raised feet on the bottom, a tethered plug that is threaded and can be attached to a garden hose on the sloped drain, and everybody's favorite "Made in the USA", and it would seem that the pros greatly outweigh the cons.
Now, that being said, there's one more thing about the Pelican 35 qt cooler that makes it stand out. It's the Inter-Agency Grizzly Bear Committee's "certification for bear resistance". Apparently, Pelican ProGear has, in fact, received that certification, which is given for helping with the important job of keeping bears safe while also reducing human vs bear encounters. The bear resistance certification involves extended periods of testing that involve both penetration and intense impact via mechanically reproduced methods and actual grizzly bear testing involving a captive bear. This is all great news for campers since bears getting into your food can be a serious problem.
Pelican 35 Qt Cooler Downsides
The few downsides with the Pelican 35 qt cooler are bulkiness, weight and a possible leaky drain. Although this cooler seems to be loved by just about everybody, some consumers find it to be awfully heavy. In fact, some have recommended using a folding dolly to move it.
It does weigh in at 32.16 pounds (14.59 kg), so when you add a block of ice and the contents that you are cooling, you're probably going to be toting around something that could weigh in at approximately 60 pounds. So, unless you have one or maybe two strong men to carry it, the dolly probably is a good idea.
Some buyers of the Pelican 35 qt cooler find it to be rather bulky. The outer dimensions of the cooler are much larger than other similarly sized coolers like the Yeti Tundra 45. Yeti coolers tend to be more streamlined and have less obvious protruding handles and latches than Pelicans. If space is a concern, it might be worthwhile to take a look at a Yeti cooler instead, although the price is much higher for a similarly sized cooler
As far as the leaky drain is concerned, it has only seemed to be a problem for some buyers. It appears to be a small gasket that causes the problem. For those who experienced this, however, Pelican quickly sent a replacement gasket, no questions asked. Users have reported that it was fairly easy to replace, but did require a special screwdriver. Others who experienced this leaking issue were able to fix it using waterproof adhesive sealant around the drain's inside O-ring. The problem is, you are out of luck if the drain starts leaking while you are out on a fishing or camping trip.
So, for everyone who is willing to spend few extra dollars to get a truly well-built cooler, the Pelican 35 qt cooler seems to be a winner. And, if you don't mind the weight, there's nothing stopping you; however you might want to seriously consider that folding dolly if you plan on really loading it up.
See Prices for the Pelican 35 Qt
Click Here to see more reviews of the Pelican 35 Qt