Pelican 45 Qt Cooler Review
cooler Review: 4.5 out of 5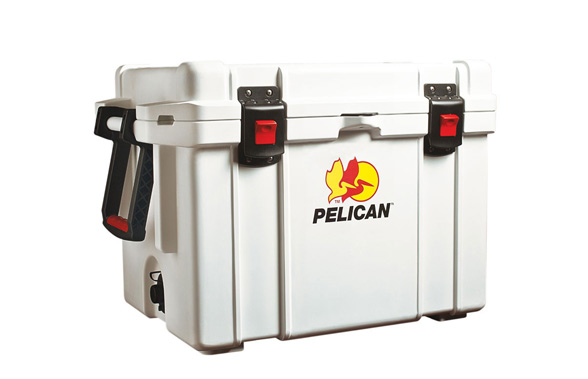 The Pelican 45 Qt is an impressive cooler that it manages to maintain its internal temperatures for a very long time. There are few characteristics that are more important in an ice chest than the ability to maintain its internal temperature, while protecting the contents of the cooler in the meantime. When people pack ice into this cooler, it will stay frozen for an impressive ten days.
Everything inside is going to be just as protected for the totality of those ten days. As such, people aren't going to have to worry about anything getting warm or anything defrosting during their barbecues or during almost any of the outdoor events where their coolers are needed.
Insulation
The Pelican 45 Qt cooler has two inches of polyurethane for insulation, which is part of the secret to its overall success. This level of insulation is definitely considered unusual among ice chests in general, which is one of the reasons why the Pelican 45 Qt cooler is such a notable product in the first place.
It should be noted that even customers in Arizona and in similarly terribly hot climates have said that the cooler was able to retain its temperatures effectively. This is a cooler that will help get people through the very hottest summers on record.
Seal
One of the other reasons for the success of the Pelican 45 Qt is the simple fact that it can be sealed so tightly. Having good insulation is great, but it's only going to be so helpful if the seal isn't good enough. Owners will find that the seal is airtight, and that they're not going to have to work very hard in order to close the cooler and keep it closed.
The Pelican 45 Qt cooler is also padlock-ready, which is going to be a huge bonus for a lot of people. Many coolers do not have this feature. People who are trying to lock up their alcoholic beverages in order to keep them away from their kids at certain points are going to have an easier time doing so thanks to this feature.
Handling
When it comes to purchasing an ice chest, one of the most important factors is how convenient it is to handle. Ice chests need to be portable to a certain extent, or they're going to be too inconvenient for people to use for their barbecues or for almost anything else. This ice chest actually has molded-in and hinged handles in its dual-handle system. As such, the handles are going to be strong enough, and people aren't going to have to drag this ice chest around with them.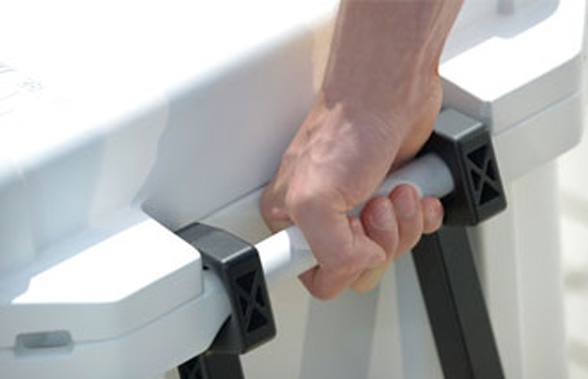 However, it should be noted that the cooler is fairly heavy. Obviously, heaviness is subjective, and some people aren't going to have a difficult time lifting it. However, the thick insulation certainly has its price, and it does tend to make for a product that is even heavier than it would be otherwise. A cooler with such a large capacity is going to be heavy anyway, and the ice and all of the products that are going to be stored inside will make it even heavier.
The weight of the cooler isn't a tremendous drawback, but it is something that people should keep in mind when they are planning events, especially if they're trying to do something like bring the cooler with them to outdoor concerts. The cooler has raised feet that don't slide around, so it doesn't need much support when it is actually on the ground. Moving it might be slightly difficult, but people are going to have something to grab when they do it.
Cleaning
This cooler is garden hose attachable. As such, it is going to be that much easier to clean, which people will typically do outdoors with a garden hose when it comes to products like this. The stainless steel hardware that makes up the cooler is also resistant to corrosion, so it is less likely to need heavy-duty cleaning in the first place. Prevention is always better.
See Prices for the Pelican 45 Qt
Click Here to see more reviews of the Pelican 45 Qt