Pelican 65 Qt Cooler Review
cooler Review: 4.6 out of 5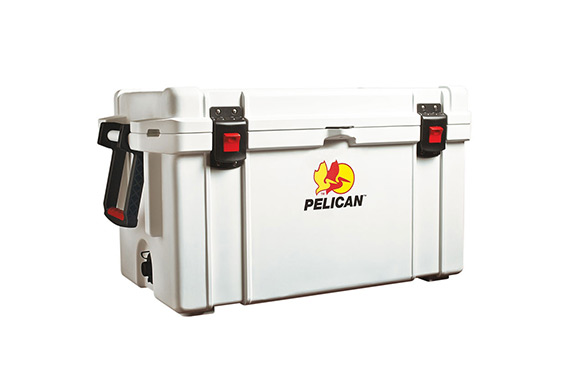 The Pelican 65 QT Elite cooler is a product of Pelican Products Inc. They are a global leader in the design and manufacture of advanced portable lighting systems and high-performance cases and coolers. Their devices are used in civilian applications, firefighting, police service, military applications as well as entertainment. The pelican 65 qt like any other pelican product is built to last a lifetime.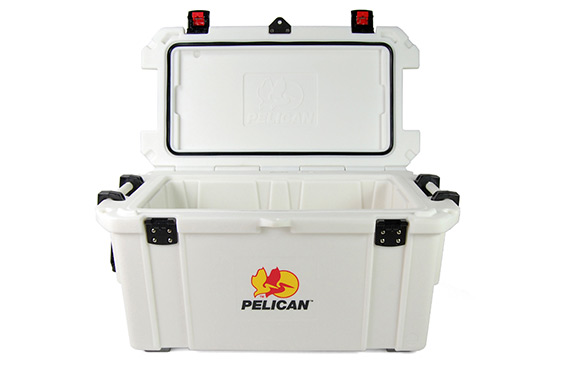 Dimensions, Capacity and Weight
The Pelican 65 qt cooler comes in two standard colors, tan marine and white. There is an option for custom color. Its interior dimensions (L X W X D) are 26.5" X 12" X 12.5" (67.3 X3 0.5 X 31.7 cm). The exterior dimensions (L X W X D) are 37.16" x 20" x 19.75" (94.3 x 50.8 x 50.1 cm). Its weight is 48Lbs (21.77 kg). The pelican 65 qt is made of Polyethylene for maximum strength and comes with an ABS latch. Its accessories include a 65/95QT Elite Cooler Seat Cushion which is White or Green, a small Dry Rack Basket and a Tie-Down Kit.
The Pelican 65 qt cooler is among those coolers certified as bear resistant by the IGBC under certification numbers 3365, 3366, 3373, 3374, 3375 and 3376.
This cooler is capable of 10 day ice retention when used correctly. It is equipped with a freezer grade gasket for to achieve airtight capabilities in all its working conditions. It has a 2 inch polyurethane insulation to ensure life time longevity of its insulation properties.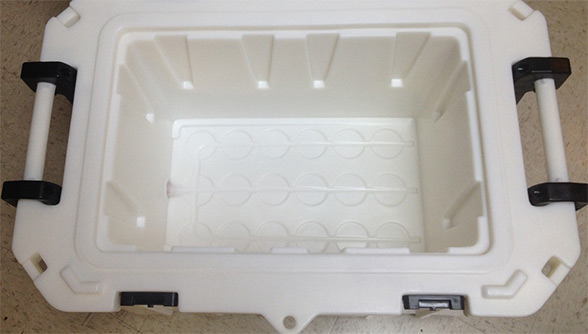 It has a dual handle system where the handles are Molded-in and Hinged for easy handling and transportation It has the Press and Pull Latches which are wide enough to allow gloved use for secure locking of the cooler lid.
The molded-in tie down enables one to securely hold the container in position for rough transportation on any terrain. Other features include the Non-Skid and Non-Marking raised feet, the Molded-In Lock Hasp and the stainless Steel Plate. It also has a Sloped Drain and a tethered Threaded Plug which is "Garden Hose Attachable" for convenient darning of the cooler.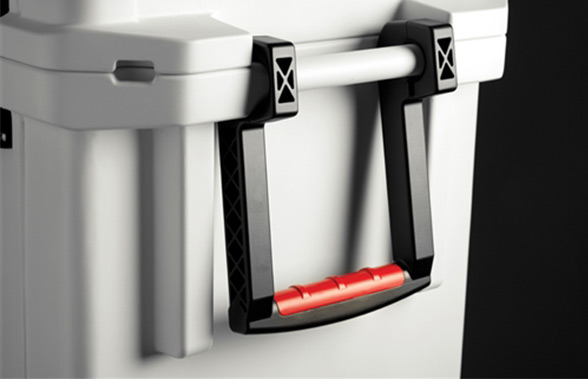 It also features corrosion resistant stainless steel hardware and an integrated Fish Scale on Lid. This Scale comes in handy when you have to take small but quick weight measurements of your fish or other products you may have. The corrosion resistant hardware ensures your cooler will not be affected by salt water and its structural integrity will stand the test of time.
Lifetime Guarantee
It comes with a lifetime guarantee, which is a testament of the manufacturer's faith in its products. This product is certified by the Inter-agency Grizzly Bear Committee, in the spirit of reducing human-bear conflict. This is achieved by ensuring that bears do not have access and become conditioned to anthropogenic foods and other bear attractants that increase these encounters. The product has undergone extensive impact and penetration testing by use of visual inspection, captive Grizzly Bear testing and mechanical methods for prolonged periods of time.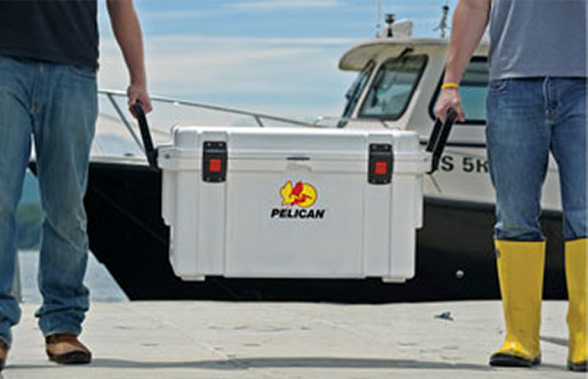 The Pelican 65 QT is built like a tank. The pelican has definitely made a mark in the cooler civilian market. If you look at the design that combines the Stainless steel hardware, a lock that can't be sawed off by would-be thieves, built in tie downs, professional handles and the skid-proof feet. This product could win a cooler beauty pageant.
Downsides
A major downside of the Pelican 65 QT is the fact that it weighs a lot. Fully packed it could weigh as much as 60lbs. If you have transportation means or the manpower, this should not be a problem. These features make it hold ice longer than expected. It can hold ice up to a period of 8 days if you keep it under a shade or protected from direct sunlight and other heat sources or 4 days on the normal outdoor temperatures.
The key to keeping whatever you have at the desired low temperature is temperature is to pre-chill. The cooler does not actually cool stuff but keeps their temperature steady. So if you want your ice to be at zero degrees Celsius maximum, you have to make sure the interior is at pre-zero temperatures first. Otherwise the interior will war the ice till they reach an equilibrium, at which point some of the ice might have melted.
Conclusion
Another important factor to keep in mind is air. Unless you are in the subzero temperatures of the arctic, the air blanket will keep warming up the interior of the Pelican 65 QT or any other cooler for that matter every time you open it. It is the same principle with the home freezer; you have to keep it closed to avoid using extra power to keep the interior at freezing temperature. The high price might not be justifiable if you use cooler for only a few hours a day. However if you are going to have a constant supply of ice, the Pelican 65 QT is your cooler of choice. It will not let you down.
See Prices for the Pelican 65 Qt
Click Here to see more reviews of the Pelican 65 Qt