Yeti Roadie 20 Cooler Review
cooler Review: 4.6 out of 5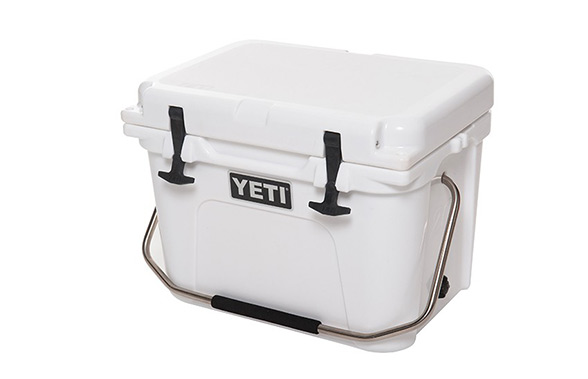 When it comes to coolers, there is simply nothing that can compare to the Yeti, more specifically the Yeti Roadie 20. There are a lot of reasons that this cooler is very much a cut above the competition. First of all, it is similar to other Yeti products that have a proven level of quality. It can be used in almost any location and it is practically indestructible.
It keeps everything cold for days and it has been tested to the most extreme levels possible. Without a doubt, anyone that is looking for a small, personal cooler that can easily be transported wherever they need it should consider getting a Yeti Roadie 20.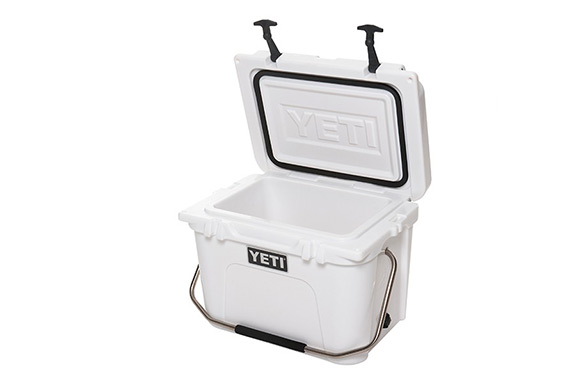 Proven Design
This smaller cooler is essentially the little brother to the popular Tundra series, also produced by Yeti. It offers a smaller, more personal size that is easy to handle for one person. To make it even easier to carry, the company decided to incorporate a stainless steel handle that makes carrying it a breeze.
In addition, the cooler is designed well enough so that the hinges are practically indestructible. They are also specially designed to keep the lid propped open. If you have ever had the lid on a cooler come down on your hand, you know how frustrating this can be so it is nice to have one that does not do this. Furthermore, the exterior of the cooler never sweats so there is no mess to clean up.
Bring the Roadie 20 Almost Anywhere
If you can possibly get into a particular area or enjoy a given experience, you can take your Yeti cooler with you. This particular product is small enough to fit easily on any ATV or even a golf cart and it is equally at home sitting inside a canoe. You can truly take it anywhere that you want to go. Another plus is the fact that it is designed not to slide around, even on slick surfaces.
This really gives you the freedom to take it wherever you want without feeling like to have to constantly chase after it. Better yet, it offers the same sturdy, virtually indestructible design as other Yeti products. This is thanks to the Rotomolded Construction that is featured on virtually all of the Yeti cooler products which allows them to be molded from a single piece. As a result, you can sit on them, stand on them or throw them around. Whatever you can think of to do to them, they can stand up to it with ease.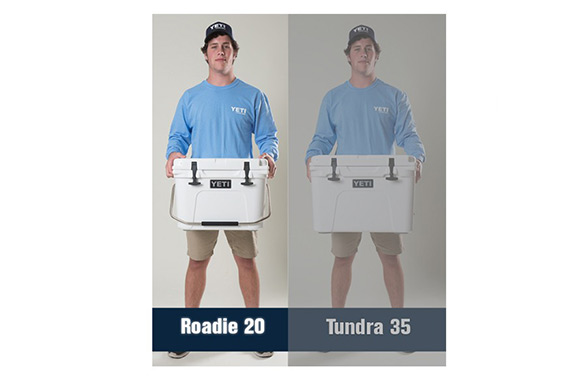 State of the Art
Yeti coolers are known for keeping things cold. This version is certainly no different. In fact, its Permafrost Insulation allows you to keep the ice in the cooler for up to a week without it melting. This is practically unheard of for any other cooler, but for Yeti coolers, it is just another typical day.
The Yeti Roadie 20 also offers a state of the art draining system that is fast, efficient and complete. Despite its relatively small size, you can fit a lot into it. At its widest points, this cooler is only 19 1/4 inches wide from end to end, 11 5/8 inches wide from front to back and 14 3/8 inches tall. With that being said, it can hold up to 20 pounds of ice or it can easily accommodate at least 14 cans of your favorite beverage while fully loaded with ice. It simply doesn't get any better than that.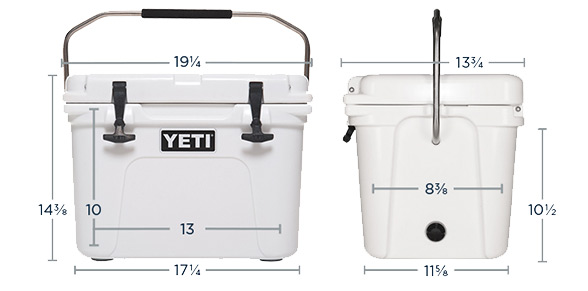 A Cooler That is Designed to Last
As is the case with most Yeti coolers, this one has been tested to the extreme. In one case, a 500 pound man tried to sit on it, crush it and kick it around, all with no success. Not even a single dent was created in the cooler. As if that weren't enough, the cooler was also tested against a pair of grizzly bears that took a turn kicking it around. They cannot produce a single dent in the cooler, either.
Despite the fact that the cooler has been well tested, the company is still confident enough to offer a five year warranty. If you purchase it and then somehow manage to ruin it in some fashion, they will replace it with another one.
Conclusion
The Yeti Roadie 20 is another shining example of what the Yeti company is all about. It features all of the same outstanding qualities that every Yeti cooler has but it is small enough to be taken on any adventure and it can easily be carried by a single individual, even when fully loaded. As a result, this is one of the best options that has ever been produced when it comes to a cooler that can get the job done.
See Prices for the Yeti Roadie 20
Click Here to see more reviews of the Yeti Roadie 20